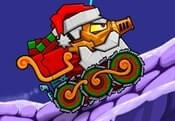 Car Eats Car: Arctic Adventure FREE GAME · PLAY ONLINE
These are unusual races that will surprise everyone. In this adventure, players will experience a variety of emotions. Go to vibrant locations and start the process. You have to manage the transport, which is on the run. He is followed by enemies who want to devour him.
You have to be very fast and agile to get to the finish line. There will be obstacles along the way and you need to successfully pass them. Each level is unique and has prepared cool challenges. You can also upgrade your character in the game.