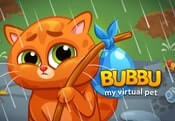 Bubbu My Virtual Cat FREE GAME · PLAY ONLINE
This is a great feature that allows players to take care of their virtual friend. You have to feed this cute pet, take care and love. The game offers a wide range of activities where you can have fun. Dress up the hero in shorts or other clothes and take part in exhibitions.
You can customize the look of your animal and choose accessories. In addition, there are excellent graphics and you can see how the morning or night comes. Feel like a person on whom the character's happiness depends.