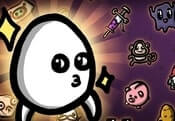 Brotato Premium FREE GAME · PLAY ONLINE
The main character is a vegetable who decided to arrange an expedition. He, along with his comrades, went to a neighboring planet. Suddenly, the ship crashed and everyone except him died. Now the hero has to fight terrible creatures until they come to his aid.
Be dexterous and accurate to make the right shots! Gather the necessary resources and items that will improve your skills! Explore the location and be always on the alert before the start of the round! In Brotato Premium you can feel unreal emotions!