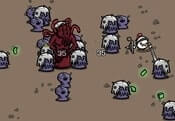 Brotato Mobile FREE GAME · PLAY ONLINE
If you like extreme battles then welcome to the game! Now on your gadget you can come up with a brilliant strategy and achieve great success. The main character went to study outer space. Transport fell on one of the planets inhabited by creatures that do not like guests.
Since the potato was the only survivor, it has to take the brunt of it! Fight with different types of weapons and acquire other equally important items. Also players can adjust the difficulty for more fun and pleasure.