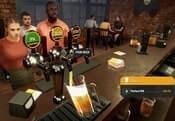 Brewpub Simulator FREE GAME · PLAY ONLINE
In this game, players will try on the role of a tough businessman. This bar is a favorite place for all men because there is beer here! Today is your chance to cook it yourself! Add different seasonings and flavor enhancers to create a unique recipe!
In addition, the fans must improve the building to attract even more visitors! Upgrade furniture, decorations and more to raise the status of the cafe! Buy table entertainment to make your guests even more fun and interesting! Can you become a professional?