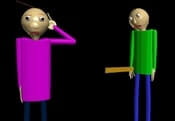 Baldi's Basics 2023 FREE GAME · PLAY ONLINE
Baldi's Basics 2023 is a new version about a maniac teacher! You again have to stay at school after school. The monster has already prepared some math problems for you, so be careful! Players will have to explore the entire building alone and avoid falling into a trap.
Always be on the alert because the enemy has no less evil friends! You need to be smart to solve all his puzzles and get out of here. In this challenge, participants will also have to collect all the books! The atmosphere will be creepy!