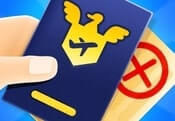 Airport Security FREE GAME · PLAY ONLINE
In today's world, the most popular mode of transportation is by plane. It is believed that this is the safest option, but is it? In fact, the greatest danger lies in people who want to take advantage of this.
In Airport Security, players will become a security guard who will check the identity of everyone. You never know what's in a person's bag, but can enlighten them. With this you will be able to see all the contents in the bags. In addition, you will check the documents and decide who to skip and who not.