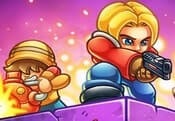 Zombo Buster Rising FREE GAME · PLAY ONLINE
In the previous part, you have already fought a crowd of the living dead. This time, players are waiting for a new batch of cool battles in which they need to show their full power! Opponents are ready to return again with new forces and attack all survivors.
The main task in this game is to protect them! Be careful to hit right on target and destroy the enemy. There is no need to come up with complex strategies and the like to win. Just enjoy the process and show off your shooting skills!