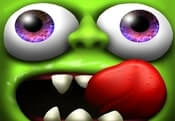 Zombie Tsunami FREE GAME · PLAY ONLINE
In this challenge, players will have to lead a horde of the living dead through the streets. Turn everything in your path into allies of the undead! This exciting and exciting game will appeal to everyone who loves chaos!
Here the task will become constantly more difficult which is of interest! You start with one creature and must run through the streets of the city avoiding obstacles. As the group grows, members gain access to new abilities and upgrades. For example, you will be able to fly or jump higher!