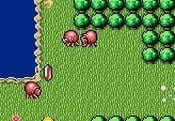 Zeruda No Densetsu FREE GAME · PLAY ONLINE
The peaceful kingdom has guarded three historically prized artifacts for centuries. These people did everything possible to protect the relics from prying eyes. But it so happened that the warlike neighbors decided to fight for these artifacts. And during the war one of them was stolen.
It's no secret that they have a terrible and boundless magical power. And if they are in the wrong hands, this power will turn into an omnipresent nightmare. Zeruda No Densetsu yearns to meet his hero, who will save everyone from inevitable death at the hands of malicious kidnappers.