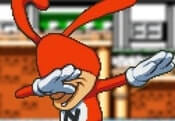 Yo! Noid 2 FREE GAME · PLAY ONLINE
The main character goes in search of his favorite item. Suddenly, he finds himself in a place full of pizza ingredients. One of the towers was stolen and now your task is to find it! In Yo! Noid 2 players will have to meet different characters and learn their own stories.
Jump, run and even fly, but the main thing is to reach the goal! In addition to such bright movements, you can solve puzzles. It has excellent graphics that will make you fully immerse yourself in the atmosphere. Swing and forget about gravity!