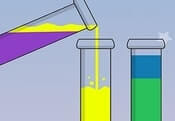 Water Sort FREE GAME · PLAY ONLINE
This is a relaxing puzzle game in which players are asked to pour a colored liquid into tubes. The goal is to fill each of them with the same color, pouring it into different containers. However, you must be careful not to mix colors or overfill the tubes.
Otherwise, you will have to start all over again. As you progress through the levels, the missions become more and more difficult. They require strategic thinking and careful planning! This challenge will help everyone to have a great time and relax.