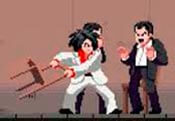 Vengeance of Mr. Peppermint FREE GAME · PLAY ONLINE
A long time ago, a maniac kidnapped a brother and sister. The boy managed to escape, but the girl did not. Thirty years later, a man wanted to find his missing relative. After he found out that she was dead, his world turned upside down.
Now he wants to take revenge on the offender and destroy him at any cost! In Vengeance of Mr. Peppermint players will go on a bloody journey. You have to go through a lot and even kill someone if he gets in the way. Create incredible combos for good results!