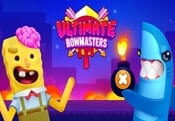 Ultimate Bowmasters FREE GAME · PLAY ONLINE
In this game you will meet a cool character. He is brave and always carries a bow with him. The player has to go through several levels that differ in tasks. There is a huge uniqueness here and you will not see the same locations twice.
Test your dexterity right now on the battlefield. Opponents will be placed on the territory. All characters are individual and funny. Point your arrows at them and let them go! Get rewards and points to buy more powerful weapons! Can you bring down fruits and vegetables?