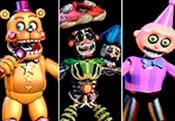 Tyke and Sons lumber co FREE GAME · PLAY ONLINE
If you are here to experience fear, then we hasten to upset you. There will be not only creepy moments, but also fun! The main character is a cool beaver who has a farm. Players will help him cope with all missions.
For example, grow crops, care for trees and flowers, and build buildings! This game has a wonderful atmosphere, where night follows day as quickly as vice versa. Collect items that will help in construction and decoration! Take part in small challenges that require quick reactions!