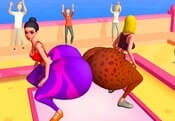 Twerk Race 3D FREE GAME · PLAY ONLINE
This type of dance has become popular not so long ago, but has already received great success. In this game you will control a character who will demonstrate his skills. But first, players have to go through a series of obstacles and deal with them.
Move straight, collecting the necessary items along the way. Take sports equipment that can pump up the hero's body. At the end of the round, he or she will fight in a battle with opponents. You must win at all costs, so put in the effort!