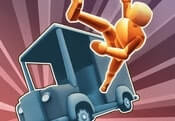 Turbo Dismounting FREE GAME · PLAY ONLINE
In Turbo Dismounting you will have a responsible task! Here, players will create roads and add obstacles to them. This is necessary in order to check how the machine can overcome them. You can use all available materials and tools that can cause damage.
The best option is to do everything possible so that the transport could not stand it and smash to smithereens! Use your creativity to get the perfect result! In addition, players can put a doll inside and choose a pose for it. Watch the process from any angle!