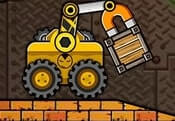 Truck Loader 5 FREE GAME · PLAY ONLINE
Working as a driver of a huge transport is not as easy as it seems. In this game, you have to take on this role and deliver the goods to the desired point. Visit the location where the boxes with the necessary materials are located.
In order to collect them you need to drive close enough to them. Press the special button to take the box and put it in the trunk. There will be levels of different difficulty and you will never know what awaits you next time. They will add new tasks where you need to use special moves.