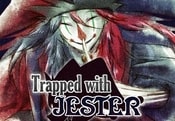 Trapped with Jester FREE GAME · PLAY ONLINE
This game will scare even the most experienced player. The main character just opened his eyes and realized that he was in an unknown place. He has a very bad headache and it makes it difficult to think clearly.
Lack of memory and suspicious sounds around make you tense even more. Trembling in the whole body and someone's eyes are watching you! As soon as you hear the voice of this, you know that there is no turning back! Who is this and why is he next to you? Learn one of the endings and be shocked!