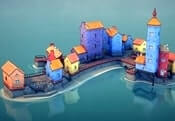 Townscaper FREE GAME · PLAY ONLINE
Go to a place that is in the middle of the ocean. Here no one can stop you from starting construction! No one will monitor your works of art, much less give rules or instructions. For this reason, if you love building, then welcome to this game!
Here players will do what they love, using all the necessary items. Create a city that meets expectations and constantly improve it! Let there be confusing roads that are populated with cars and much more! What is your imagination capable of?