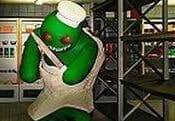 Toony's Daycare FREE GAME · PLAY ONLINE
The kindergarten recently closed. Why did this happen? After the children disappeared? Residents of the city have dozens of questions and you need to answer them. For this reason, people hired a private detective to help figure out this creepy case.
What truth awaits them and if it is real? The hero of the game will solve puzzles and explore the territory. Each clue has great weight in solving problems! But what happens when the man gets to the very beginning? Or will this be the end?