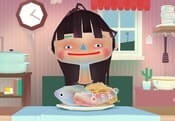 Toca Kitchen 2 FREE GAME · PLAY ONLINE
In this challenge, everyone can become a chef. Different visitors will come to you to enjoy your abilities. They have no particular desires in food, so you can cook anything. The refrigerator has a large selection of products that you can use.
Take what you like the most and create unique masterpieces! Combine ingredients and get new gourmet dishes. In addition, players can play a joke on customers and give them stale fish or expired milk. Have fun and enjoy these tasks in Toca Kitchen 2!