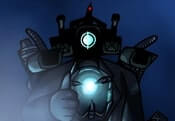 Titan Cameraman Upgraded FREE GAME · PLAY ONLINE
In this challenge, all the problems were removed and new tasks were added. In Titan Cameraman Upgraded, players will be able to enjoy even more picturesque locations. The main mission remains the same, so get your camera ready!
You have to explore the territory to find a beautiful angle. Do it precisely to capture the right moment! These are puzzles that will make you think and make decisions quickly and immediately! In addition, there are about 100 unique levels that have a cool atmosphere!