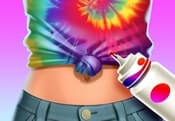 Tie Dye FREE GAME · PLAY ONLINE
This is a nice and fun game where you can create and customize your own special clothing design. With an easy to use interface and vibrant colors, this is perfect for those who love fashion and creativity.
As you use it, you will be able to choose from a variety of patterns and more to add your own unique style. And also you have the opportunity to share your creations with other people. This is a great way to showcase your skills and creativity! Realize your old ideas or even dreams right now!