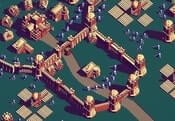 Thronefall FREE GAME · PLAY ONLINE
In this game, players will fight in exciting battles. Here the main task is to protect your kingdom. During the day you will build a tower, and at night you will repel enemies. At any cost, do everything possible so that it does not collapse!
Use your wits to create an amazing strategy and become the leader in the field! Also, the fans have to make decisions on how to equip the defense! This is one of the most important tasks, so be careful! The process will be stressful, but don't give up!