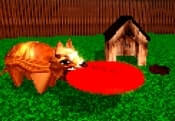 Three Minutes With Your Dog FREE GAME · PLAY ONLINE
This game is quite strange, but there are those who will love it! Here the whole process is set up for tailed friends. Players will throw a Frisbee to them and watch as they merrily run after the toy. But when the animals return, the world around them begins to change.
Casual and ridiculous situations begin to appear that will surprise everyone. Pets can keep their owners on a leash or eat huge amounts of food. This process will make everyone smile, but also scared! Are you ready to spend some time here?