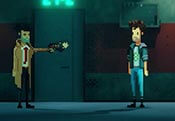 Three Minutes To Eight FREE GAME · PLAY ONLINE
The plot of the game is about a guy who has a strange fate. He knows that he will die at exactly 19:57. No one can help him except you. Players will choose different actions and make necessary decisions. Perhaps some of this will change the future!
Every time you will start over if something goes wrong. How well do your brains and instincts work? Try to cheat the stress and come out a winner! Find the truth that will allow you to get out of this damned labyrinth! The threat will always be there, so be brave!