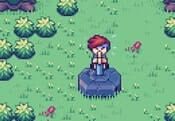 There Is No Game: Wrong Dimension FREE GAME · PLAY ONLINE
Even if you didn't want to go on an adventure, you have to! In this game, players have an amazing chance to visit different worlds. All of them are unpredictable and have silly and funny situations. Can you find the right path and get back home?
Along the way, meet unique characters that will bring many surprises! In addition, participants will be able to solve riddles and develop their mental abilities. Think outside the box in order to fulfill all the goals and tasks! Don't forget to be careful!