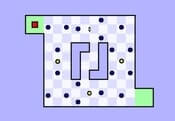 The World's Hardest Game 2 FREE GAME · PLAY ONLINE
This is a puzzle style game that will stretch your brain endlessly. Here, players will be able to spend time cool and useful. Start the process to improve your reflexes and more! You have to take control of a small geometric figure.
Spend it from start to finish and avoid obstacles at the same time. They will be really everywhere and therefore you need to be very careful. React quickly to danger to get around it and avoid crashing. It will be difficult, but nothing is impossible! Good luck!