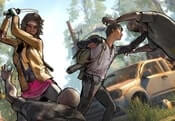 The Walking Dead: Survivors FREE GAME · PLAY ONLINE
This is a post-apocalyptic strategy based on the popular comic book and TV series. You must collect materials, build a community and defend against zombie attacks! The game features characters that are familiar to you!
And there are both single player or multiplayer modes such as alliances and PVP battles. With many challenges and solutions, you must use your strategic skills to survive in this dangerous world. Will you cope with such a responsible mission? Enjoy this atmosphere and fight!