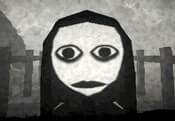 The Wailing Of The Forest FREE GAME · PLAY ONLINE
This is a horror that will get you on your nerves. In The Wailing Of The Forest you will witness events that will turn your mind upside down. Go to a location where trees, bridges, lakes and more are everywhere.
The graphics seem not clear and bad, but that's what adds the right atmosphere. Along the way, players will meet strangers who will be interested in your life. Explain to them what you need to go home, but do not listen to their advice! Will you be able to get out of this place or not?