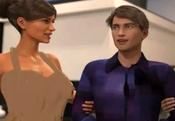 The Visit Game FREE GAME · PLAY ONLINE
The Visit Game is about a guy in love who wants to get to his girlfriend. His path will be difficult and unusual, so you will have to be attentive. Players will have to guide the character through a long road to complete the objective.
From time to time, crabs will appear, which do not pose a great danger. But one wrong move can lead to a problem. We don't want to spoil what awaits you during the process. This will force you to prepare for the tests, which will simplify the tasks. So let it be a surprise!