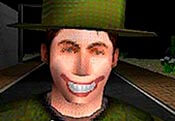 The Smiling Man FREE GAME · PLAY ONLINE
If you are crazy about creepy stories, then welcome! In this game, players will go on an ordinary walk, which will turn out to be one of the most disgusting. The main character went outside to take his mind off bad thoughts.
Everything was as usual and therefore there were no suspicions. The light illuminated even the most distant areas, but this did not help you avoid meeting a strange person. This guy seems to be laughing and it's really scary. He will follow you wherever you go! Will you be able to stay alive?