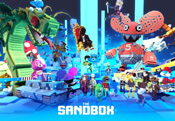 The Sandbox FREE GAME · PLAY ONLINE
In The Sandbox you have to build your own universe. Feel free to experiment and get the results you want! There are a large selection of materials, tools, and creatures to create your own world. Place them in the places you want it to please your eyes!
Players can compete in special events and even collaborate with friends to build the perfect world. Through this process, participants can explore the limits of their imagination! Simple operation will save everyone stress and bring enjoyment!