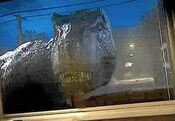 The San Diego Incident FREE GAME · PLAY ONLINE
A couple of decades ago a terrible thing happened. Get ready to witness it and even take part in it! This game is about researchers who observe dinosaurs. One day the chief scientist decided to transfer one of them to another city. It was a male who had children.
Everything was fine until the creature took off running! Now there is complete chaos on the streets, people are panicking and other problems! Can you solve it all and stay alive? Save humanity, otherwise this will be the end!