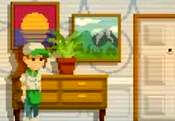 The Rainman FREE GAME · PLAY ONLINE
There are legends about a creepy killer who mercilessly kills his victims. He goes hunting only in the dark and when it's raining outside. The main character of the game is a girl who works in a restaurant. The waitresses always leave late and then rush home!
This time the young lady went outside and saw fog, clouds and drops falling on the asphalt. This meant only one thing – he was nearby! Help the heroine escape from her pursuer and stay alive. The process has 7 endings, so make the right decisions.