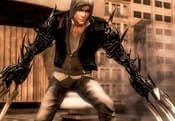 The Prototype FREE GAME · PLAY ONLINE
The main character has become a victim of a conspiracy! He lost his memory, but now has several unique abilities. They allow him to change his body shape and much more. In The Prototype, players will encounter different problems that need to be solved.
Be careful and react quickly to reach the end! You also need to constantly move around during the process. Physics perfectly allows you to jump on the walls of a building, etc. Pick up weapons along the way to fight in brutal battles!