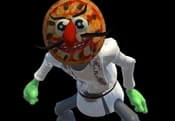 The Pizza Head FREE GAME · PLAY ONLINE
The main character ordered fast food and decided to relax. As soon as he takes the first bite, he quickly falls asleep. In a dream, he meets a terrible monster who starts talking to him and broadcasting strange things.
He says that he will pursue him to the end until he completes the task. This is a horror game that will make you nervous every second! Find out the real truth about this piece of food and try to get out of this world! Doors are closed, so hurry up and look for the missing items before the time runs out!