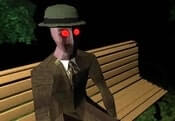 The Man in the Park 2 FREE GAME · PLAY ONLINE
The main character tried for a long time to forget that terrible nose. But it happened again! Will you have the courage this time? In The Man in the Park 2 you go for a late evening walk in a quiet place. The street lights are on, there is no one and there is silence around.
Empty benches are lined up and two people are sitting on one of them. Players will be able to walk past them or engage in dialogue with them. Find out what kind of help they are asking for! There will be multiple endings here, can you handle it?