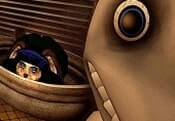 The Man From The Window 2 FREE GAME · PLAY ONLINE
Baby rabbit decided to read a book about a maniac. It says that the killer quietly makes his way into the house, and then kills the inhabitants. This scared the child very much and he ran to his mother. She began to calm him down and assure him that this could not happen in life.
But suddenly there was a loud sound in the yard. It seems that the plot of the fairy tale began to take place in reality. Now the heroes have only a few minutes to figure out what to do next. Help them cope with this in the game!