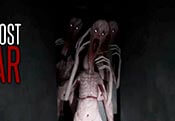 The Lost Fear FREE GAME · PLAY ONLINE
The main character of the game suffers from nightmares. One night when he fell asleep, he found himself in a strange place. It has a weird and creepy vibe that makes you want to escape. But will it be easy to get out of your own sleep?
In this challenge, players will have to be brave and not be afraid. Don't be led by your own negative thoughts! Solve puzzles and explore all the rooms you see. The process will take about 15 minutes, but during this time you will have time to get goosebumps!