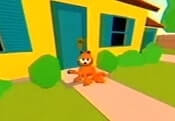 The Last Monday FREE GAME · PLAY ONLINE
In The Last Monday, players will go to a strange building. The main character was banned from many things, but he wants to do them anyway. You have to visit a familiar place that you saw earlier. There is a large area with a lot of different locations.
Explore it to find out all the most important secrets. The atmosphere is a little scary, but you can also have fun here. Run so as not to catch the eye of strange creatures. Hide so they don't find you! Collect items and use them for the necessary purposes!