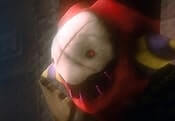 The Friends We Left Behind FREE GAME · PLAY ONLINE
How mentally stable are you? In The Friends We Left Behind, players will get involved in a very unpleasant situation. Go to a children's shelter that has been abandoned for many years. There is bad energy here and you can feel it!
Will you be able to spend time here until the entities release you? They are literally everywhere, but they hide around corners to create the effect of surprise. Try to survive in one of three modes that will make you nervous! Complete all five levels and prove that you want to live!