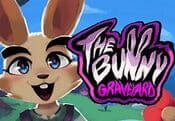 The Bunny Graveyard FREE GAME · PLAY ONLINE
This cute rabbit is looking for new friends! He has a huge garden to take care of. Are you ready to become part of this team and help the hero? In The Bunny Graveyard, players will be sent to an area where they need to dig beds.
Then plant the seeds and watch the plants bloom. Do you want to see beautiful flowers? But there are a few things you'd expect in this challenge! Fans will be able to see scenes of violence and other things that will make them nervous. Entry is only for those who are not afraid!