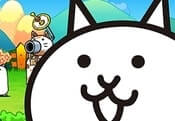 The Battle Cats FREE GAME · PLAY ONLINE
Everyone is used to the fact that only brave warriors participate in battles. But in this game everything will be completely different! What a surprise it will be when players find out that the main opponents are furry animals.
Pets unleashed a war on the house and now you have to decide who is right and who is not. Control one of the characters and come up with a strategy that will lead to victory! In addition, players will be able to create an army of powerful tailed creatures! Be invincible!