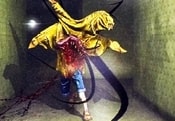 The Backrooms 1998 FREE GAME · PLAY ONLINE
Here players will witness the life of a young man. Once he fell into the dungeon and now he has to stay here for a while. The Backrooms 1998 has a psychological genre with horror elements. Can you survive in such conditions and overcome all your fears?
Explore this territory and pay attention to the smallest details! Only in this way you can find out the whole truth about this place. Do not forget that you are not alone here and a terrible creature is watching you. Be quiet and don't make any noise!