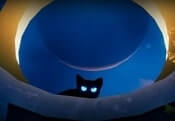 The Baby In Yellow Black Cat Update FREE GAME · PLAY ONLINE
Have you ever wondered how nannies work? Visit the house where a cute little child lives. His parents left for a short while at night and asked you to be alone with him. The usual care has grown into something completely different and now the main task of the players is to stay alive.
The Baby In Yellow Black Cat Update will make anyone nervous, so try not to screw it up! There are other situations here that can scare you to death. Do the usual chores around the house but don't forget that the little one is hunting!