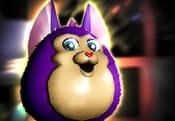 Tattletail FREE GAME · PLAY ONLINE
All children are interested in what is in holiday boxes. It was there that the main character decided to open his New Year's gift. Inside was a popular toy that could talk. This was a mistake, because now it constantly demands something!
Players will have to fulfill all the wishes of this strange creature, otherwise everything will end badly. Wash him, feed him, groom him and much more, otherwise he won't shut his mouth! Do it quietly because mom might wake up! This is a horror game that fascinates and scares!