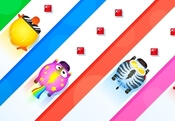 Tap Tap Dash FREE GAME · PLAY ONLINE
This is an exciting game in which you have to demonstrate all your reflexes. Before starting the process, players will be able to choose one of the characters. There are about 20 of them here, for example, a bird, a fish, a lion, a koala and many others!
Each of them is in a hurry and you need to help them get to the finish line. This must be done as quickly as possible and not crash into obstacles. There are a lot of sharp turns here, so be sure to tap the screen in time! Try to collect all the crystals!