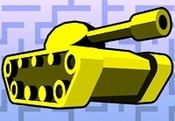 Tank Trouble 2 FREE GAME · PLAY ONLINE
This is a continuation of the game about small fighting vehicles. Here players will have to shoot bullets, bombs and more. You can choose multiplayer mode and fight with your comrades. It will be much more interesting and more fun than doing it alone!
The field is a long labyrinth through which it is not so easy to wade through. Enemies will get closer every second, so have time to deal damage. Think of a strategy so as not to lose ammo just like that! Upgrade transport and explore the whole territory!